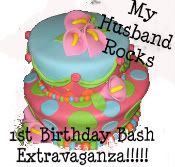 Good morning friends! Today I am over at
The Great Adventure
with Katy Lin for the
My Husband Rocks birthday bash
! Wanna party with me?
An excerpt from my guest post article, A Husband's Covering:
Life can sure beat us up sometimes. As if it isn't enough that we deal with our own lies and wounds, many times we also have to deal with attacks from the enemy. It is on those days that I am especially grateful for my husbands covering.
What Is A Husband's Covering?
For me it is a place of
safe vulnerability...
Read The rest of the article
here
!

(This post is linked with Wifey Wednesday and works for me!)
Coffee talk here daily and never miss a post by clicking
here
!